IMPORTANT NEWS
LATEST NEWS
August 22 2018

March 23 2018

February 12 2018

February 7 2018

December 14 2017
We Care: We Helped, We Made It!
Date: May 26 2017
Thank you to everyone for your kind contribution and donations of our WE CARE initiative on UNITY DAY! Ivy Education Group believes that we have a social responsibility, and must do what we can to make a difference in our community, be it big or small. That is what WE CARE is all about.
Our WE CARE initiative this year raised money for two schools. One is Bai Miao Migrant School (Beijing), the other is Zongshaxiang Central Primary School (Changdu, Tibet). For Bai Miao, we are helping them purchase a much-needed sound system for their 600 students. And for Zongshaxiang Central Primary School we are helping supply basic needs such as books, stationary, winter clothes, blankets etc.

We're proud to share that we have collected donations RMB 36,485.42 in total. Our WE CARE fund-raising target of $35000 has been fully achieved!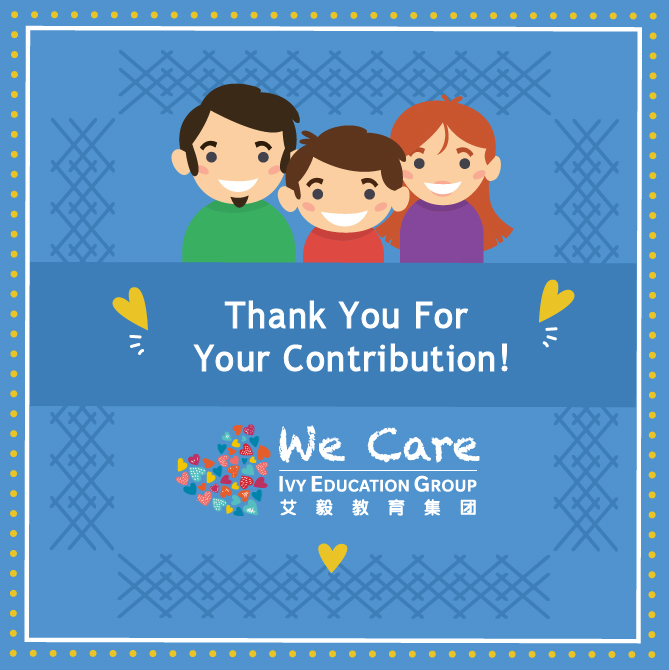 On behalf of the school and the students, thank you to for all your efforts for the children. Whether you participated as an individual, a group or a company, please know that every little bit counts, and it is much appreciated.

There is strength in numbers and together, we believe we can really make a difference. This is what we are all about, because WE CARE. And as an education group, we want to help shape our students to be change makers in their communities.

We will arrange the goods as soon as possible and send them to the two schools. We will keep updating the progress of our donation in our Wechat account. Thank you for following our Wechat post!